1 Tools, Features, and Capabilities
---
1.1 Advanced Ray Geometry Tools – Option to Auto Simulate 
Chief Rays and Ray Footprint Boundaries now offer an option to automatically run their Simulations after the general Simulation. 
We previously introduced the Chief Rays and Ray Footprint Boundaries tools. A Simulation is needed to generate the chief ray(s) and/or ray footprint boundaries for the system and these Simulations run independently of the general Simulation feature. In 22.2.1 we have now added in a preference to automatically run the Chief Rays and/or the Ray Footprint Boundaries Simulations following a general Simulation in order to minimize the number of required clicks for users who wish to run these tools frequently.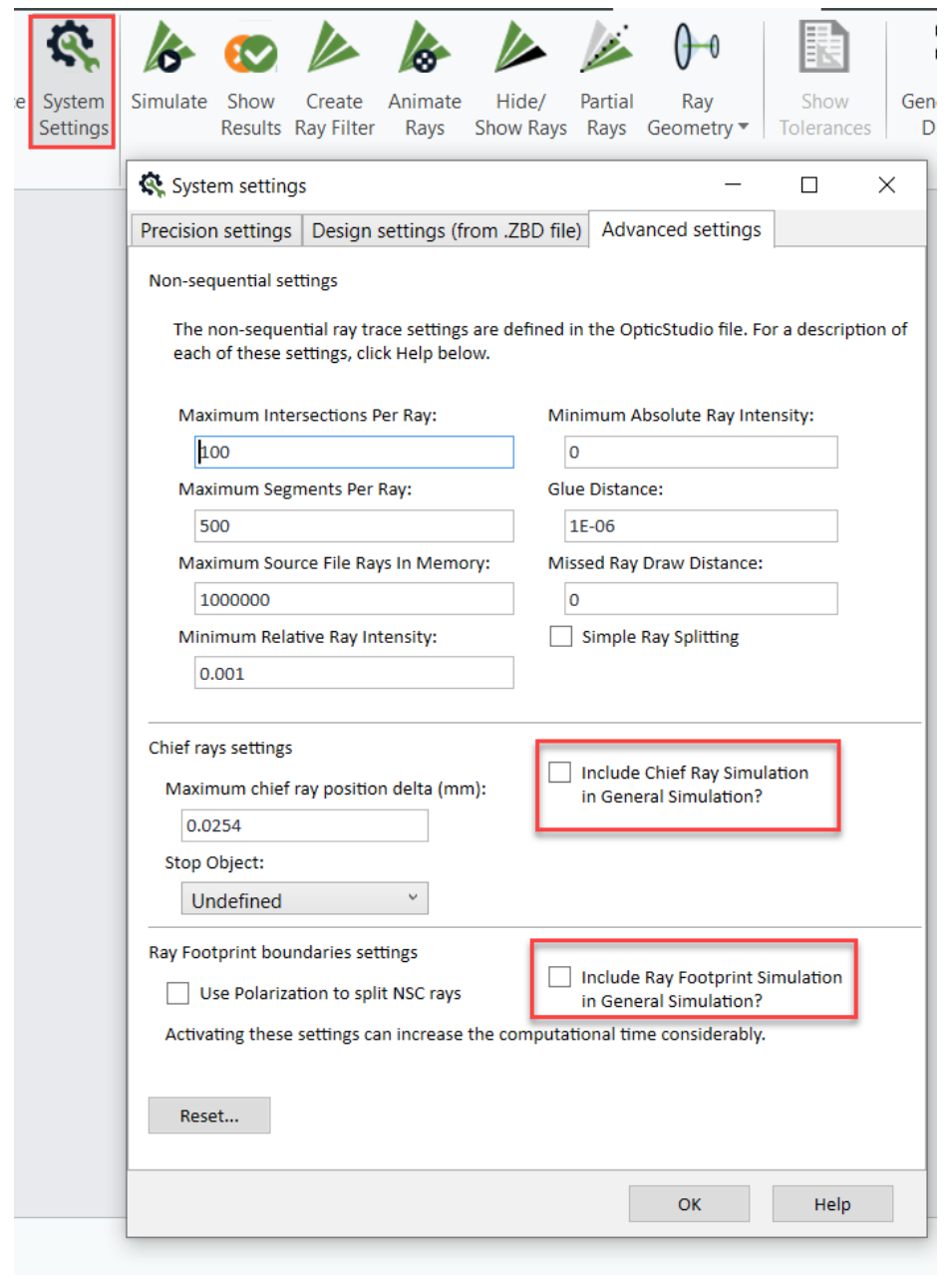 1.2 What's New Pop-Up
New features displayed 
In OpticsBuilder for Creo 22.2.1 we introduce a "What's New" pop-up window. This window will display after you install a new version of OpticsBuilder to give you a quick overview of the new features found in the installer. It will only display once after opening the new installer the first time and will not show after that.  
1.3 New End User License Agreement (EULA) 
EULA updated 
In OpticsBuilder for Creo 22.2.1, a new EULA is linked in the About OpticsBuilder tab in the Ribbon. 
1.4 Creo Status Bar Message  
Creo Status Bar shows restored optical system status 
If a user attempts to open a previously saved optomechanical assembly, the Creo Status Bar at the bottom will display if the optical system restoration is in progress and when it has been successfully restored for you to continue working on it using OpticsBuilder. 
2 Bug Fixes
---
Ansys OpticsBuilder for Creo 22.2.1 includes the following bug fixes:
Activating a read-only optical part has incorrect behavior – If a user activated a read-only optical component, it would open it in part mode and display the surface properties menu for the component on the left side. This menu had clickable windows and drop-down menus which suggested a user could change information when in fact they couldn't since it was read-only. This is now improved to display information that is grayed-out and non-clickable to not confuse users. 
Creo hangs when launched with OpticsBuilder license deactivated – For Zemax legacy OpticsBuilder only, if a user opens Creo without an OpticsBuilder license activated and then chooses "About OpticsBuilder" from the Ribbon, Creo will hang and stall out. This has been resolved to show the About OpticsBuilder window with a license not shown. The user can then close the window and continue using Creo normally. 
Boundary rays are not fully displayed in Ray Animation – The Animate Rays feature uses a sample set of rays to render the animation. We changed the sampling style to ensure that we include enough boundary rays per source. 
EULA link not working – In Ansys Zemax OpticsBuilder only – the link to open the EULA was not working. 
UI improvements 

"Creating custom component" dialog window overlaps the "Add Source" dialog window. 
A user runs a Simulation and chooses to Print a report, leaving the Generate Report window open. That user then switched to a different software application and came back to finish; however, the Generate Report window would default to the background and the user would see Creo hanging until the hidden window was closed. That window no longer defaults to the background so the user can return and continue to work. 
Out-of-date warning messages (yellow triangle) added to the Optics Manager for suppressed mechanical parts. 

Japanese UI – Additional tooltips and descriptions in the UI are now localized in Japanese