Hi everyone,
I find that one of the most useful tools in OpticStudio is the Physical Optics Propagation tool. However, I think that it is also one of the most challenging tools to use, especially when the model is composed of a relatively large number of elements, since one could easily find sampling issues or inadequate grid size which could cause some artifacts to appear downstream, and one should check the intensity and phase plots for each surface, and there is a lot of adjusting parameters like sampling, pilot fit, re-compute pilot beam parameters, etc, that can have a large impact on the results.
The first thing that I usually do even when the resulting irradiance and phase plots at the image look reasonable, is to check if there are any warning messages at the Prop Report tab. The most common warning messages that I get are:


Warning: Low sampling of pilot beam detected

Warning: Inadequate guard band detected

Warning: Transfer function may have too many waves of phase to accurately model beam

 
For these, I found good resources to address them here: 
However, I recently got a warning message that I never got before:


Warning: Pilot beam waist smaller than wavelength detected, scalar diffraction propagation algorithms may be inaccurate.
 
I'm having a hard time trying to solve it. My system consists of a collimated laser beam of Ø7 mm refracting and reflecting through several components of an optical bench, and finally expanding through an afocal telescope to free space with a diameter of Ø130 mm. The beam shape after the telescope is no longer Gaussian since there is a central obscuration at the telescope exit, but in the far-field, the irradiance pattern recovers the Airy pattern and expands with some divergence which I'd like to quantify.
The warning message that I get is shown here:

The wavelength that I'm using is 1.55 um, and the pilot beam waist at this surface is 1.19 um. I've tried recomputing the pilot beam parameters at that surface, at the surface before and/or the surface after, changing the Output Pilot Radius fit criterion to plane, resampling after refraction, and cannot see that there is a value with which I can get rid of that warning message.
Probably related to that warning, I start to see some artifacts in the far-field like these: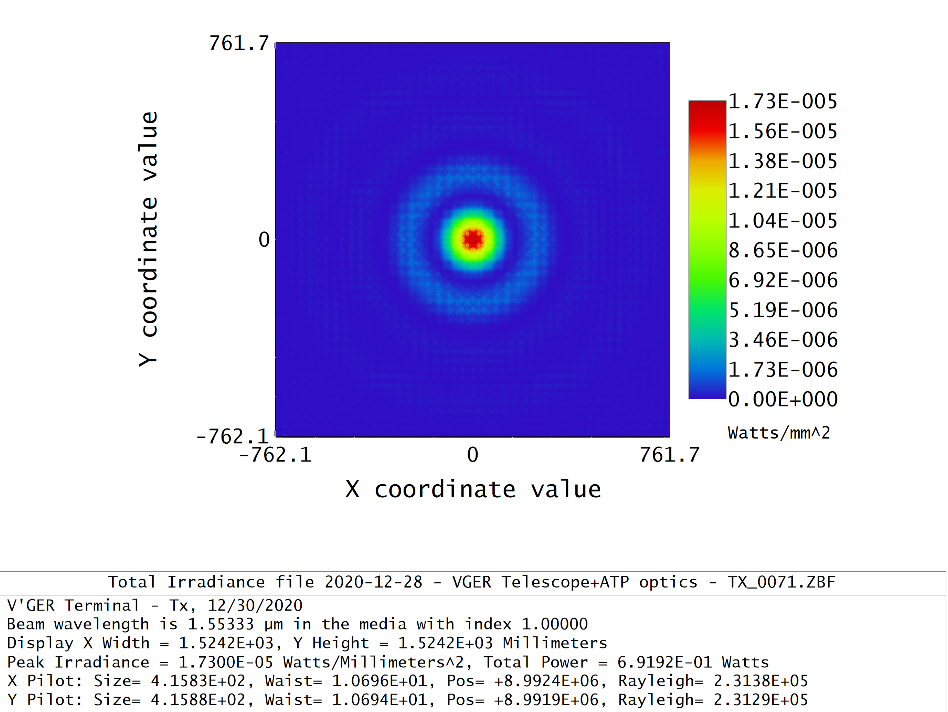 Moreover, when I try to calculate the divergence as very well explained in the Divergence of a POP beam post, the results that I get are really much larger than what I'd have expected:

For comparison, the analytical results for a Gaussian beam with a beam waist of 65 mm at 1.55 um is about 7.6 urad, and I'm getting several times that reference value, which can also be noticed by the M-square computation.
I'm attaching the ZAR file as a reference.
So, I have the following questions:


Is there a recommended approach to recompute or override that pilot beam waist with confidence?

Would you recommend to recompute the pilot beam parameters in the far-field, after the Rayleigh length? 

And finally, is there any list of POP warning messages and how to solve them? I couldn't find this listed in the help files, and I think that would be a great reference to have. 
 
Looking forward to receiving some hints.
José
Best answer by Kevin Scales 30 December 2020, 16:50
View original