There is now a link in the header of the Community called User Groups. But what are these?

User Groups allow Zemax users to come together to discuss or engage with a specific topic. For example, we have created a STAR Module User Group. This is where we will post FAQs regarding the module, and where users can connect about this tool: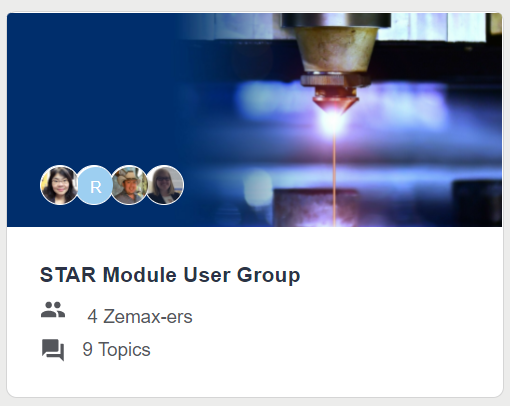 Unlike the general forums, User Groups focus on a specific interest and so may only apply to a subset of users on the Community. 
When you join a User Group:
You will be able to see who else is a part of that group.
You will gain access to a forum specifically tailored for the group's topic. This makes it easy to submit or find content.
You will be notified when a new post is posted to the group, thus allowing you to keep up on the latest happenings. 
The User Groups we offer may be public or private.
A public group is one that anyone who has a Community account can join.
A private group requires approval by the Zemax Customer Success team. 
So check out the User Groups! And let us know if there's a group you'd like to see!