Tech Tip Tuesday Cell Phone Design 10-18-2022
There was a time when a phone was used to make calls, now it keeps track of our appointments, allows us to shop from virtually anywhere, read emails, and watch pointless cat videos. The one feature most people rave about when it comes to phones though is oddly not the phone part at all, it is the camera most people are concerned about. Given the amount of real estate cell phone makers dedicate to their cameras, and the amount of resources that go into developing them, the major brands are also concerned about cameras.
This brings optics to the forefront and a cell phone has a lot of unique design challenges. We have high expectations of our phones, after all we carry them everywhere. They need to perform in all weather conditions, every type of lighting and not be damaged from shock, vibration or general carelessness. A tall order for any product, but to do all that and stay within the tolerances needed for an optical system, it is a very tall order.
There are few ways that Ansys Zemax Optic Studio can help. There is an extensive material library to aid in selection of lens material, many options of both plastics and glass types depending on the design criteria.

Lens design is increasingly important when space is at a premium. OpticStudio supports Extended Even and Q-Type Aspheres, commonly used in cameras for cell phones.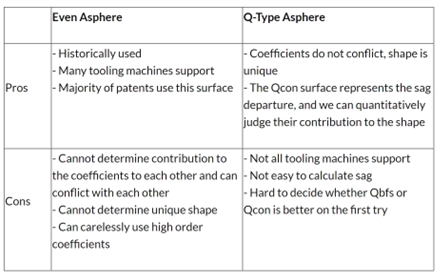 Another element the helps to resolve the human or carelessness factor of the end user, is the way lenses are mounted in a cell phone. Phones tend to use interlocking step mounts on the lenses, so each lens locks into the next and allows the optical train to stay in alignment even with shock and jitter. To create these steps on the optics, OpticsBuilder in CREO or SPEOS available for CREO, NX or SpceClaim can be used to create these steps as CAD components which are mated to the optic and created from the same optical material. This allows the system to ray trace as though it were a monolithic element machined from a single piece of material as will be the case when it goes into production.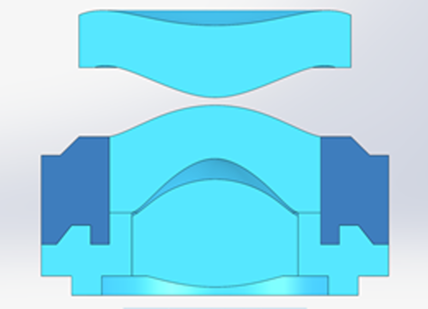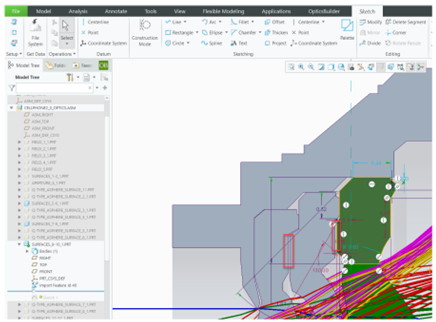 Author: Steven LaCava, Senior Application Engineer
Read more about this topic on our knowledge base: https://support.zemax.com/hc/en-us/articles/7686411841043-Designing-Cell-phone-Camera-Lenses-Part-1-Optics