Hi, I'm getting started writing a video on Wide Angle Lenses for my YouTube Channel DesignOpticsFast. I have a couple of questions:
For Zemax Support:
I'm having trouble getting the 'enhanced wide angle ray aiming' to make any difference: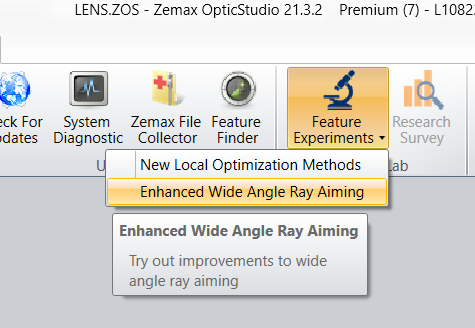 What does it do? I've toggled all the (new) switches under Ray Aiming in System Explorer and I've not been able to see any changes at all, let alone improvements. Can you guys explain where and when this Feature Experiment is intended to be useful? Or offer some sample files that show what it can do?
Also, I wanted to check that the Performance Test measures raytracing speed AFTER the ray-aiming, so it won't be a useful guide to how well or badly the ray-aiming is going. Is that correct?
For Zemax Community:
I'm interested in problems that you have in designing wide angle lenses. I'm trying to write a How-To that gives a step-by-step guide to setting up a wide angle lens. One problem I have is that it works with 100% of the files I create, so I wonder if I'm missing something. If anyone could post the ZARs of a problematic wide-angle lens I'd love to take a look at it, and also just describe any problems specific to wide-angle lenses so that I can give a comprehensive coverage.