We have recently added some capabilities that should help designers of reflective systems. In case you missed them, they are: an off-axis coordinate system for surface analyses, a sequential Off-Axis Conic Freeform, a nonsequential Off-Axis Mirror, and a tool to add an off-axis pivot point.
Off-Axis Coordinates flag
The Surface Sag, Curvature, and Slope plots now have an "Off-Axis Coordinates" flag in the Settings.  For Standard surfaces with off-axis apertures, this will convert the analyses to a coordinate system centered at the off-axis aperture and perpendicular to the surface normal at the vertex of the off-axis part.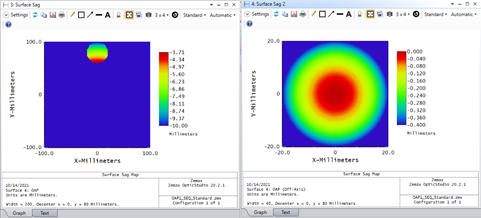 Off-Axis Conic Freeform
There's a new Off-Axis Conic Freeform surface with a coordinate system at the vertex of the part.  Since the freeform terms are optional, this part is also useful for mirrors that are off-axis conics.  The sides of the part are parallel to the surface normal to correctly capture parts that are fabricated directly onto a blank (rather than parts that are cut from a parent).  We have also added an equivalent non-sequential Off-Axis Mirror object.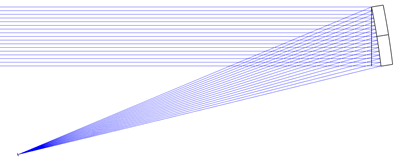 Off-axis pivot point
We've added an off-axis point to our Tilt/Decenter Elements tool.  This makes it easy to tilt about the vertex of a mirror with an off-axis aperture defined.  (It's also handy for adding mechanically realistic pivot points for a tolerancing run.)