1 Sample Files
---
In OpticsBuilder for Creo 22.1 we have made improvements to our existing sample files:  
Heliar 37mm
Single Gauss 25mm
Laser w Aplanatic Lens
We have also included new sample files in OpticsBuilder for Creo 22.1:
Cellphone Camera Lens
Cube Satellite
Laser-Induced Thermal Lensing Effect
Ultra-Short Throw Projector
Schmidt-Cassegrain
Riflescope
2 Tools, Features, and Capabilities
---
2.1 Support for space-constrained designs
Native support for the new Non-Sequential Off-axis Mirror component type 
OpticsBuilder for Creo 22.1 now offers users the ability to use a Non-Sequential Off-axis Mirror component that was introduced as a new native component type in OpticStudio 21.3. This support allows OpticsBuilder users to use the component across the Zemax range of products without loss of design integrity and full usage of analysis tools.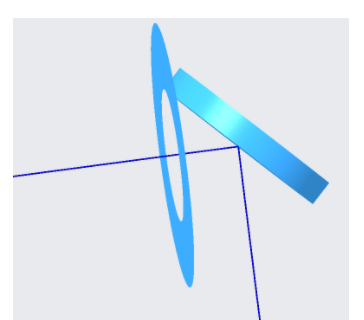 2.2 OpticsBuilder support on Creo 7
OpticsBuilder for Creo 7 is now available! 
OpticsBuilder is now available on PTC Creo Parametric 7.0.5.0 or later. By supporting this major release by PTC, we continue to provide OpticsBuilder for users as they utilize new CAD functionality. Due to a bug found on the PTC side of Creo 7, we can provide OpticsBuilder only on Creo date codes 7.0.5.0 or later. OpticsBuilder for Creo 4, 5, and 6 also remain available.  
2.3 Advanced Ray tools - Chief Rays
Interactive Chief Rays allow CAD users to design better optical products
In OpticsBuilder for Creo 22.1 we introduce a new set of Advanced Ray tools. The Chief Ray tool generates chief rays based on the source(s) you select during the Chief Ray setup. The Chief Ray is then launched from the center of the source and traces along the z-axis of the optical system. CAD users can click on the segments of this ray to utilize their CAD tools to measure, position, and analyze the affects their mechanical components have on the ray set. This will help users to make informed decisions and further changes to their mechanical assembly within the CAD environment and ensure that their assembly is meeting the requirements as defined by the ray path.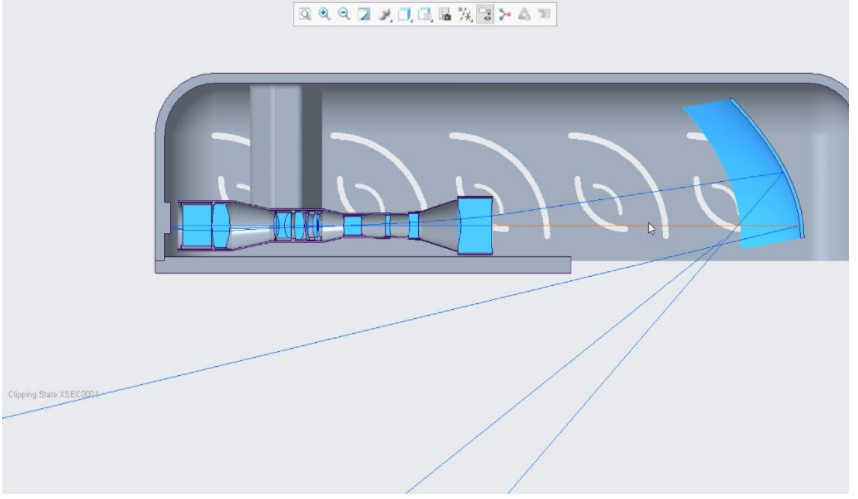 3 Bug Fixes
---
OpticsBuilder for Creo 22.1 includes the following bug fixes: 
Wavelength error message – If a user added a coating to an optical component within OpticsBuilder a wavelength error message was displaying that did not match the assigned wavelength of the system. This incorrect error message has been removed and the coating tool is fully functional. 
Revolve failure in Heliar sample file – Some users experienced incorrect graphics displayed for the Heliar sample file which showed the revolved housing and mechanical components as shells instead of solids. This prevented these users from interacting with the mechanical housing to ensure proper optical component mounting. This sample file has been updated and a bug was fixed to ensure proper representation of the mechanical components. 
Binary and Compound Lens – The Lens Editor window would not open for a system with Binary and Compound Lenses. This bug has been resolved. 
Optics Manager empty – A user imported a .ZBD file into OpticsBuilder and added mechanical components to it, then closed this system. They then started a new assembly where they imported a .ZBD file and added mechanical components. The Optics Manager was empty in the second assembly created. This bug has been resolved. 
Creo crashes – A bug has been resolved which occurred when a user disabled the OpticsBuilder add-in within Creo. If the user then enabled OpticsBuilder again it would cause Creo to crash. A second bug was resolved where Creo would crash after a user would perform two "Update .ZBD file" commands in a row. 
Update OpticsBuilder – Three bugs were fixed that were associated with updating OpticsBuilder. One of the bugs fixed ensures that users are notified with a pop-up when either a new minor or major release is available. The other two bugs ensure that if a user clicks on "Check for Update" that a browser window opens and directs the user to the OpticsBuilder downloads page. 
Japanese language – The OpticsBuilder Ribbon is now available when the Japanese language option is enabled. 
Tolerance data – When a user opened an assembly that was saved using earlier OpticsBuilder versions (20.2.0 or 20.3.0), they would find that tolerance data is not available in the later builds. This tolerance data is now available in all released versions of OpticsBuilder. 
Lens coatings – A user modified an optical component using CAD tools, such as adding a chamfer to the edge, and then applied lens coatings to all of the faces using the Lens Editor. The user then made another edit using CAD tools, such as changing the value of the chamfer, the previously defined lens coatings would be lost and display as "No coating" applied. This bug has been fixed and all applied coatings will be retained if further changes are made to the optical component. 
Undocked Optics Manager – If a user chose to undock their left-hand Optics Manager window from the Creo window, it would not work after the user imported a .ZBD file, closed the .ZBD file, and opened a secondary .ZBD file. This bug is now resolved and the undocked Optics Manager works continuously through multiple files being opened and closed. 
4 CAD Platform Support
---
Due to a decision made unilaterally by Dassault Systemes, OpticsBuilder for SolidWorks is no longer supported as of December 31, 2021. Current customers may continue using OpticsBuilder for SolidWorks until the end of their contract term. Limited technical support will be provided. Please refer to the email sent out to OpticsBuilder for Solidworks customers or contact your account manager for more information. To read the FAQ on this topic, please visit https://www.zemax.com/pages/information-for-zemax-customers-using-solidworks.